NTG Clarity Notified of Interim Receivership Appointment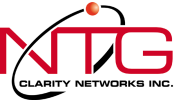 Toronto, ON - TheNewswire - October 9, 2019 - NTG Clarity Networks Inc. (TSXV:NCI) On September 17, 2019, NTG Clarity Networks Inc. announced that the Company had received a formal demand for payment of its Bank facilities.
As of today, October 9, 2019, The Company was notified that the Court has granted the Bank an interim receivership order and has appointed Grant Thornton Limited (GTL) as interim receiver, without security, of all assets, undertakings and properties of NTG, including all proceeds thereof until the earliest of:
- The taking of possession of the Property by a receiver
- The taking of possession of the Property by a Trustee in bankruptcy; and
- December 8, 2019
The court ordered that the Interim Receiver is hereby empowered and authorized, but not obligated, to act at once in respect of the Property.
About NTG Clarity Networks Inc.
NTG Clarity Networks' vision is to be a global leader in providing networking solutions. As a Canadian company established in 1992, NTG Clarity has delivered networking, IT and network enabled application software solutions to network service providers and large enterprises. More than 300 network professionals provide design, engineering, implementation, software development and security expertise to the industry's leading network service providers and enterprises.
Forward Looking Information
Certain statements in this release, other than statements of historical fact, are forward looking information that involves various risks and uncertainties. Such statements relating to, among other things, the prospects for the company to enhance operating results, are necessarily subject to risks and uncertainties, some of which are significant in scope and nature.
These uncertainties may cause actual results to differ from information contained herein. There can be no assurance that such statements will prove to be accurate. Actual results and future events could differ materially from those anticipated in such statements. These and all subsequent written and oral forward looking statements are based on the estimates and opinions of the management on the dates they are made and expressly qualified in their entirety by this notice. The Company assumes no obligation to update forward looking statements should circumstances or management's estimates or opinions change.
The TSX Venture Exchange does not accept responsibility for the adequacy or accuracy of this release.
For Further Information: